Congratulations to my friend Giovanni, who this week turned two years of age! With everything that Giovanni has been through and accomplished so far in his young life, it is hard to believe that he is only turning two! Way to go little buddy, you're the man!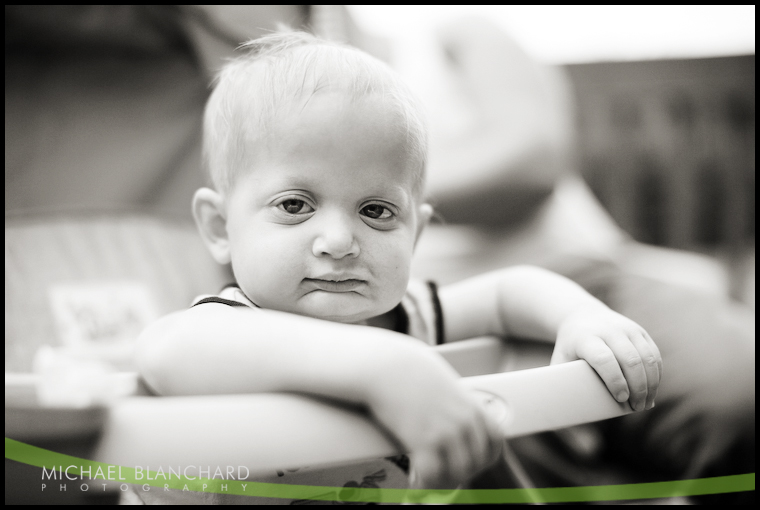 I went to New Hampshire on Saturday for the party.

"Calling all superheros!" Let's face it, the party would not have been complete without a Superman cake!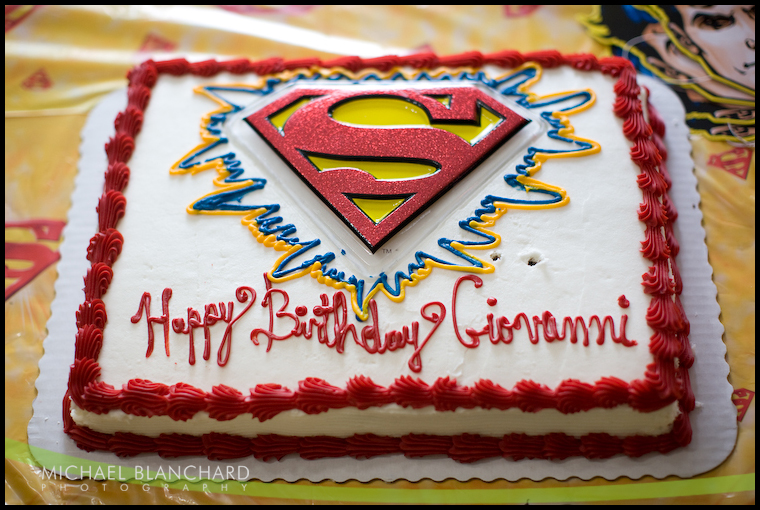 Cousin Krystle showing Giovanni his cake.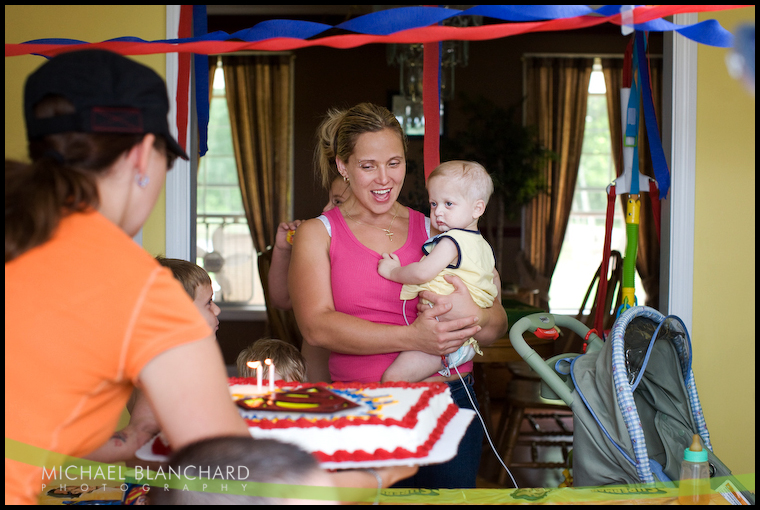 A little help lent by brothers, Alex and Adrian.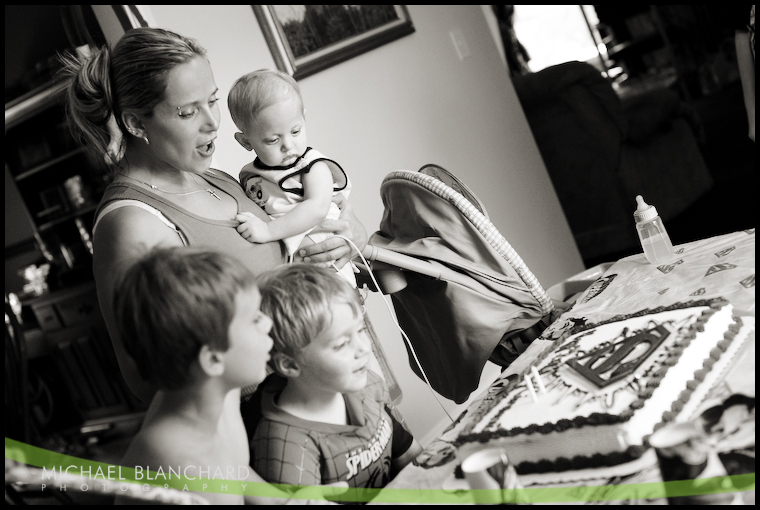 Giovanni opening his gifts.

Don't laugh... I got him a camera!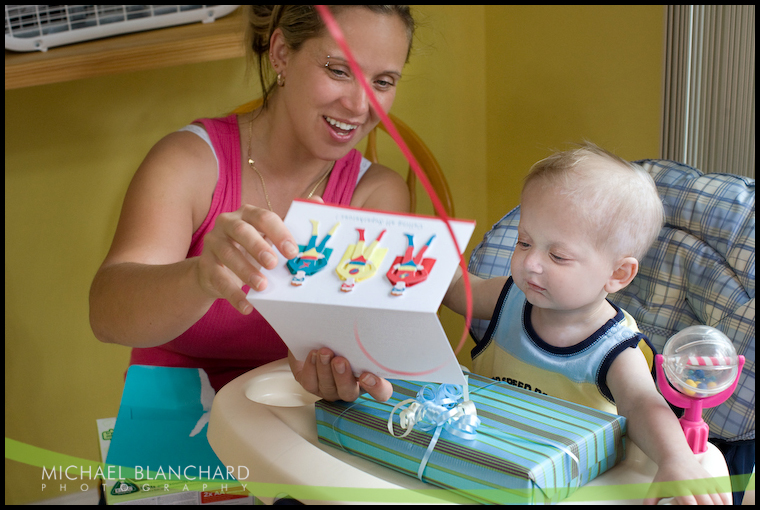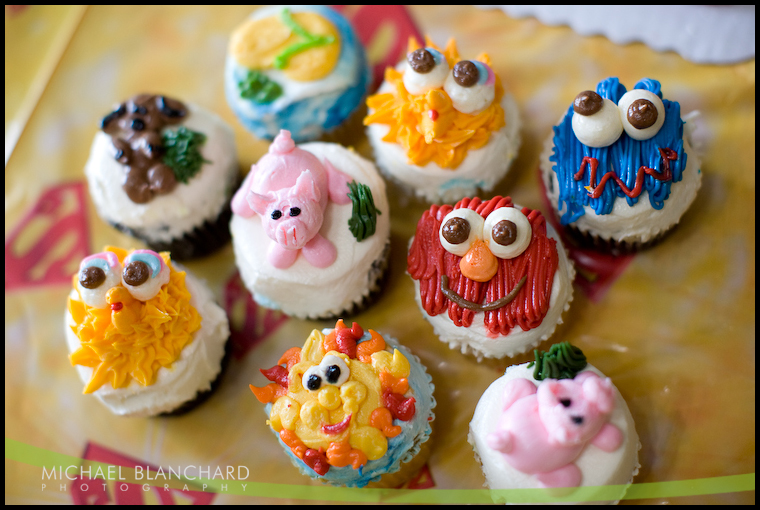 Ever wonder what an Elmo cupcake can do to a kid?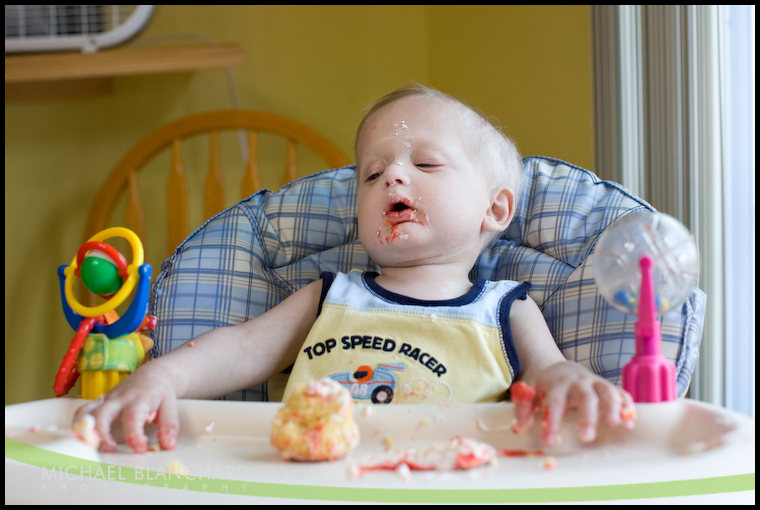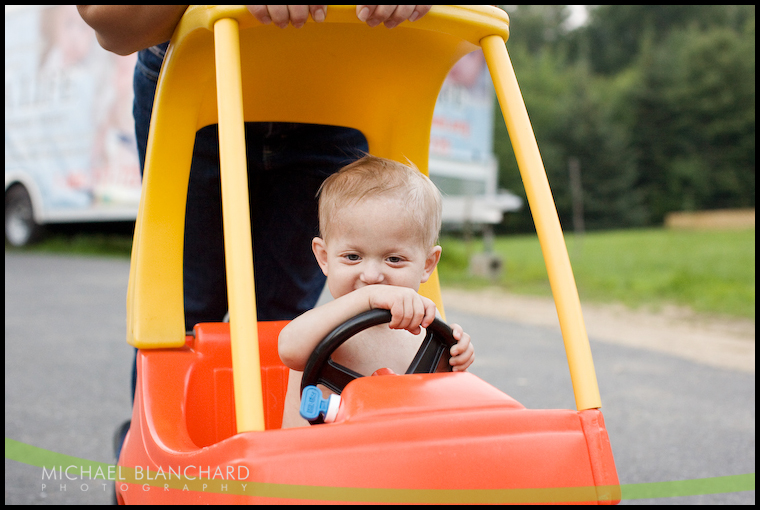 Giovanni and Dad playing.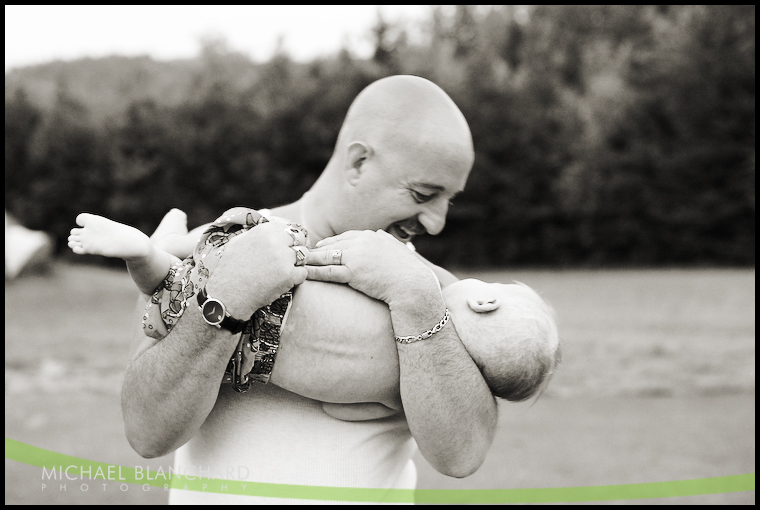 An unexpected birthday bonus: This past week, Save Giovanni's Friends located it's 10th donor match from one of our drives!

10 lives saved and only 2 years old :)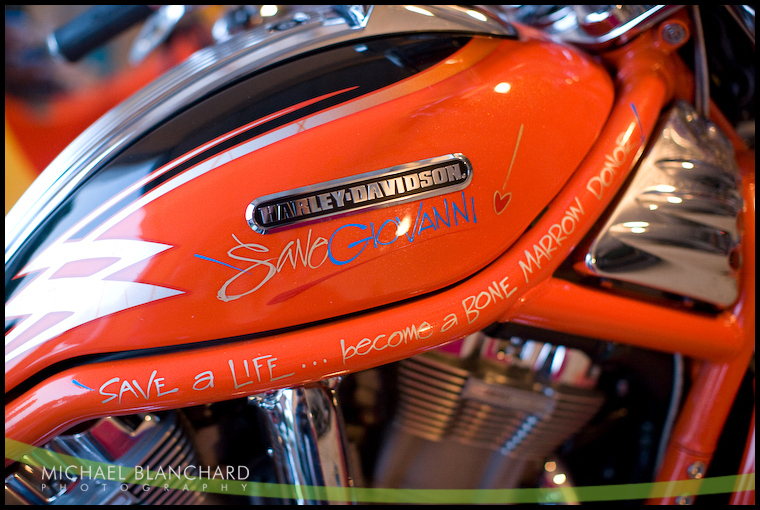 Earlier this month at Fenway Park (on the hottest day of the summer), Hits for Kids held it's first official check presentation. It was an exciting day for the charity as our benefiting organizations were finally presented with some the money raised this year.

Gift recipients from the Joslin Diabetes Center and Christopher's Haven.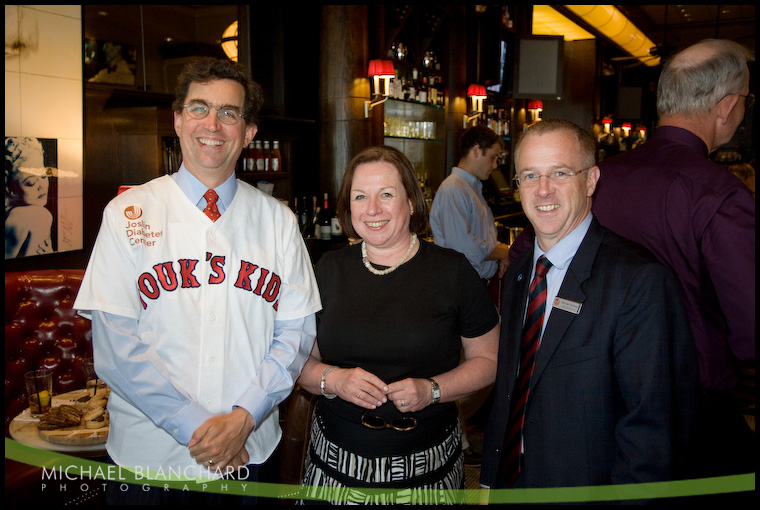 Renee Aisenberg, VP of Hits for Kids with our friend Carolyn Tiley, the Director of Sales and Marketing for Hotel Commonwealth.

A special thanks to Hotel Commonwealth and Eastern Standard for hosting our pre-party!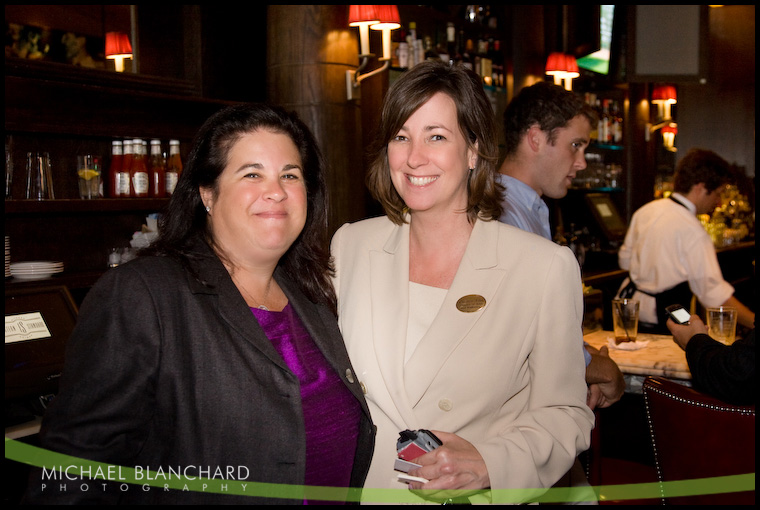 Luckily someone from the Red Sox office had good hand writing!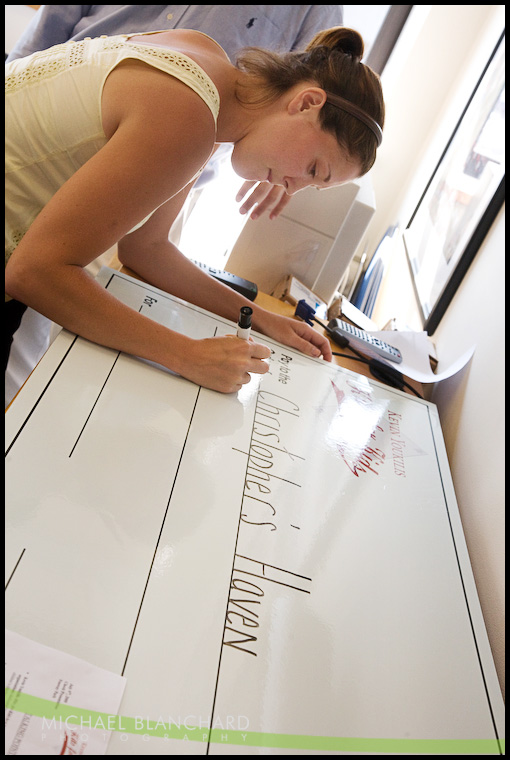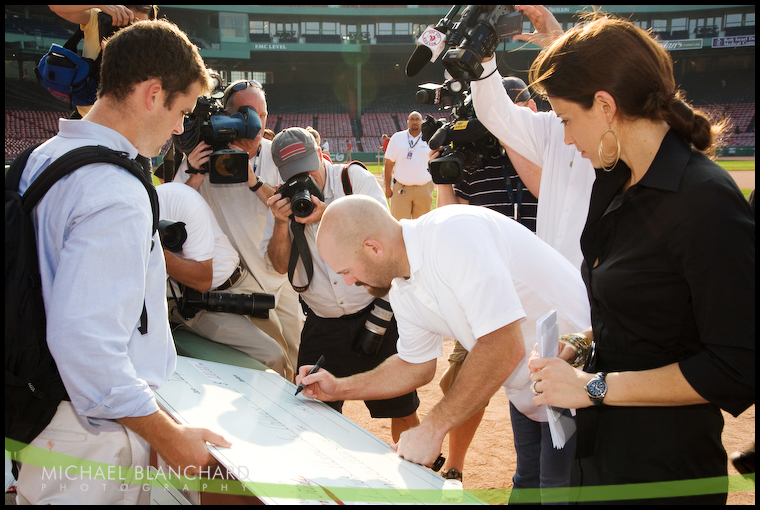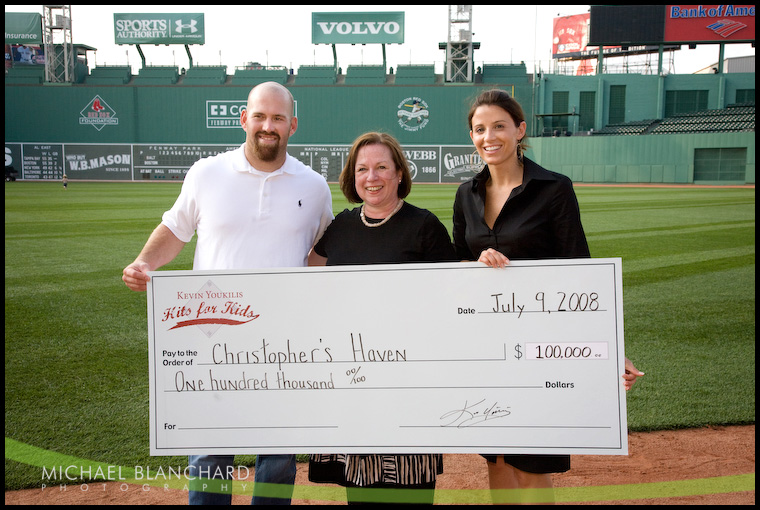 Mikey came along to play on his field.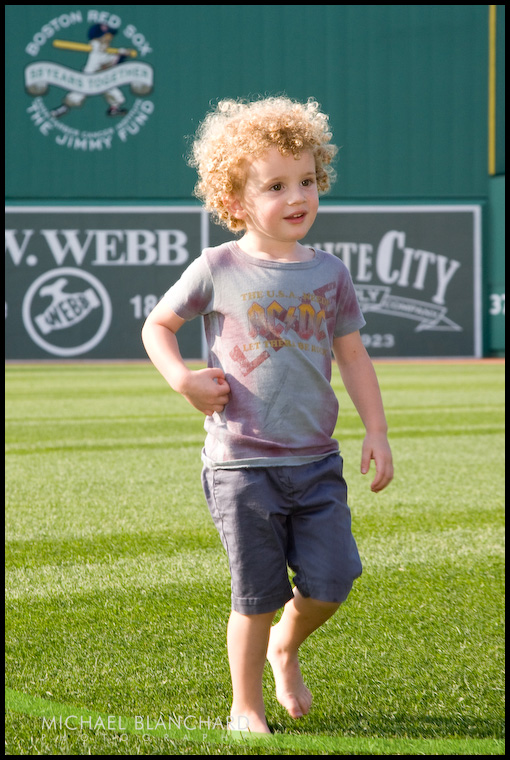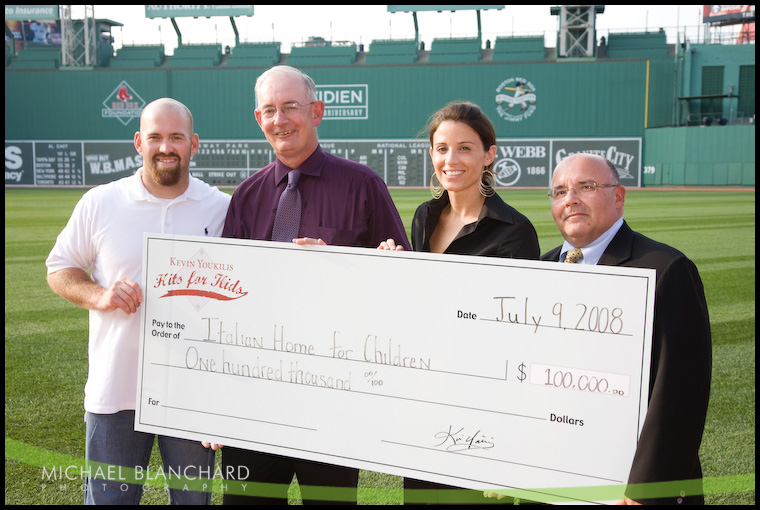 $50,000 to the Joslin Diabetes Center.

I love this picture not only because the real check is in it, but because you can see Mikey running free in the background!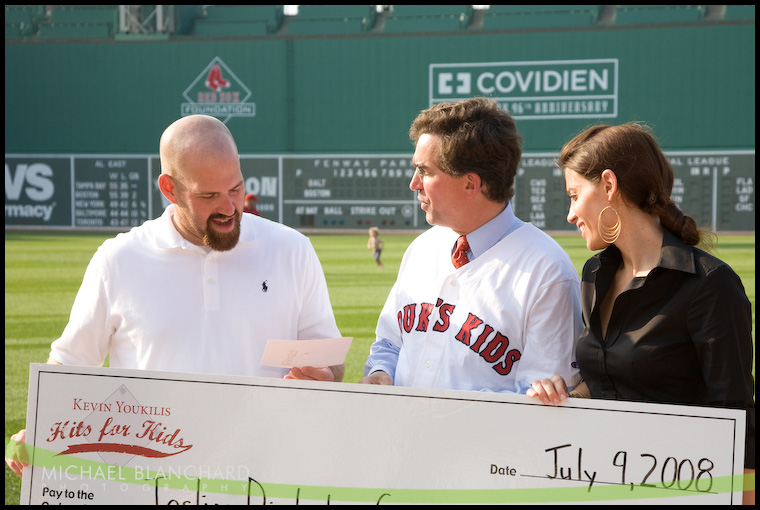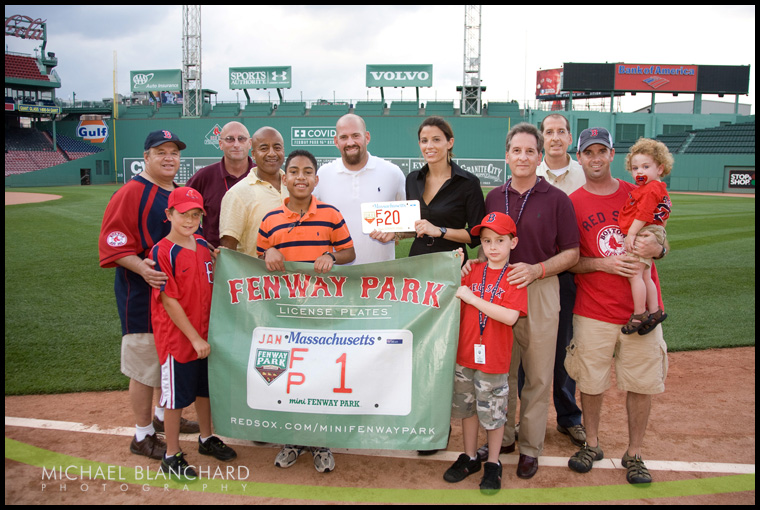 Have you tried Yoouukk chocolate yet? Visit Phillips Chocolate to get yours before they melt!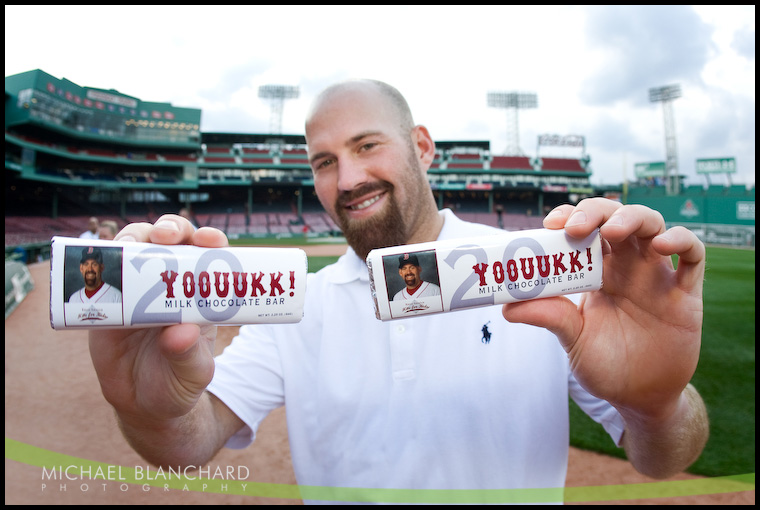 Side note, Mikey just turned 3!

Happy Birthday!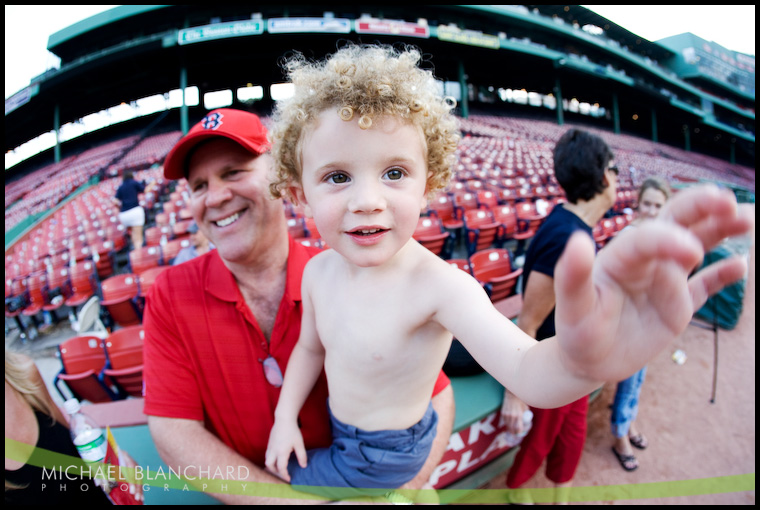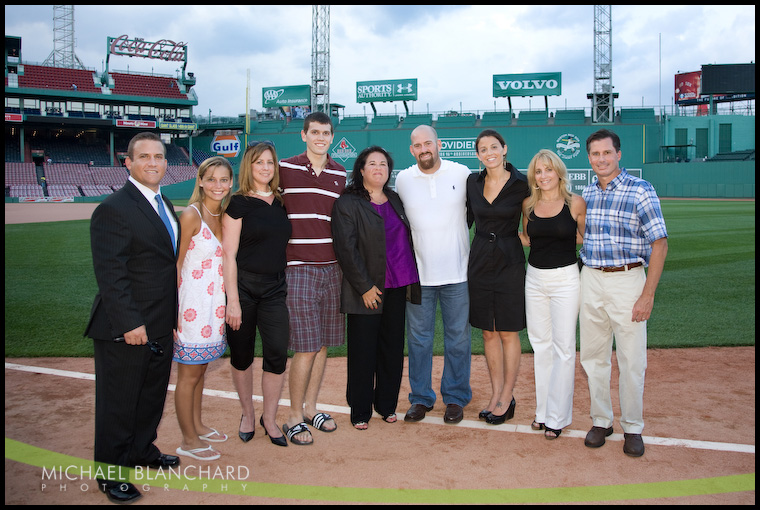 The Boston Globe ran my photo of Kevin on September 3rd, 2008.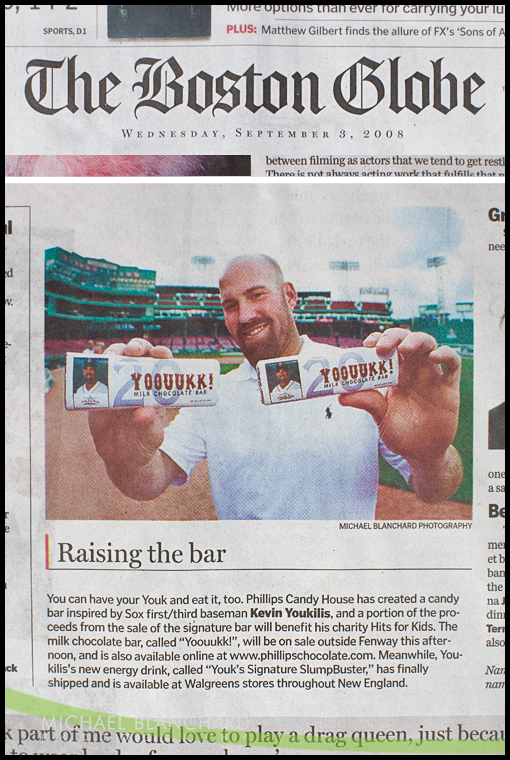 Some Boston press (photos not mine) publsihed on July 10th, 2008.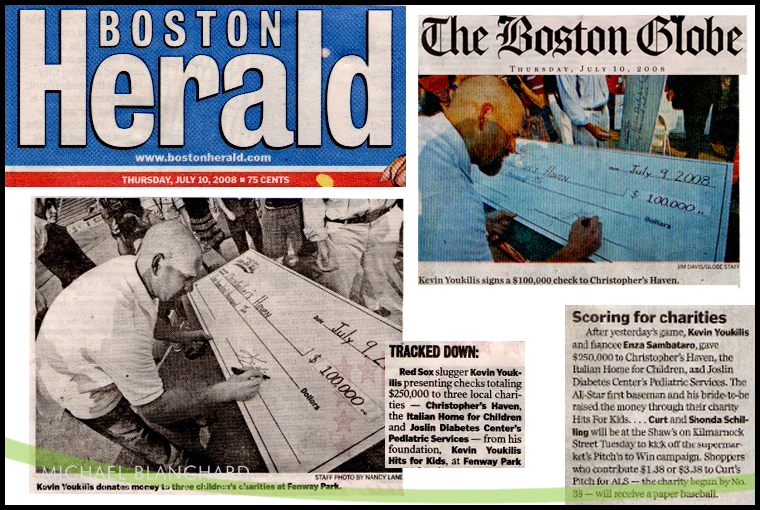 Click on the green button below for more photos from the presentation!




A few weeks after I photographed Boston's Old Town Trolley Tour at Fenway Park, they asked me back to capture their nighttime tour, called Ghosts & Gravestones! They had never had any professional photos done and were so excited to finally have some!

This is their ticket booth which is located on Cross Street in Boston, and is connected to the Marriott Long Warf. One of the windows in this picture will soon feature my photos of the Ghosts & Gravestones cast! I can't wait to walk by and see the display!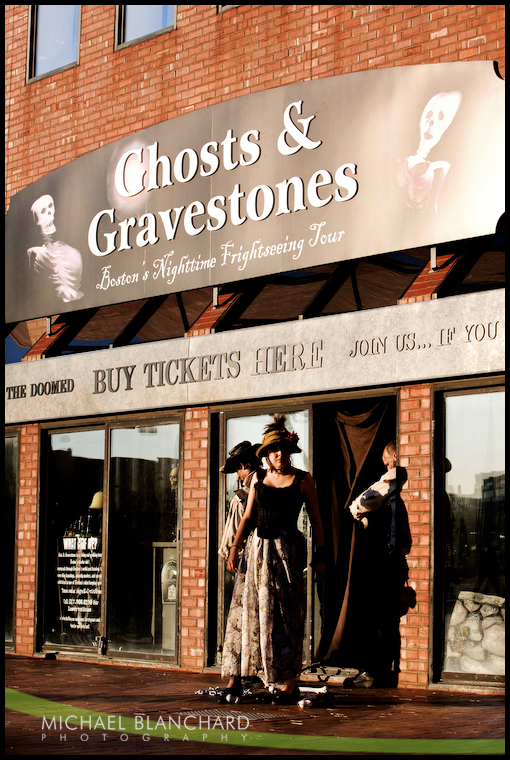 Normally when you see the trolley around town it is filled with tourists... Not on this day!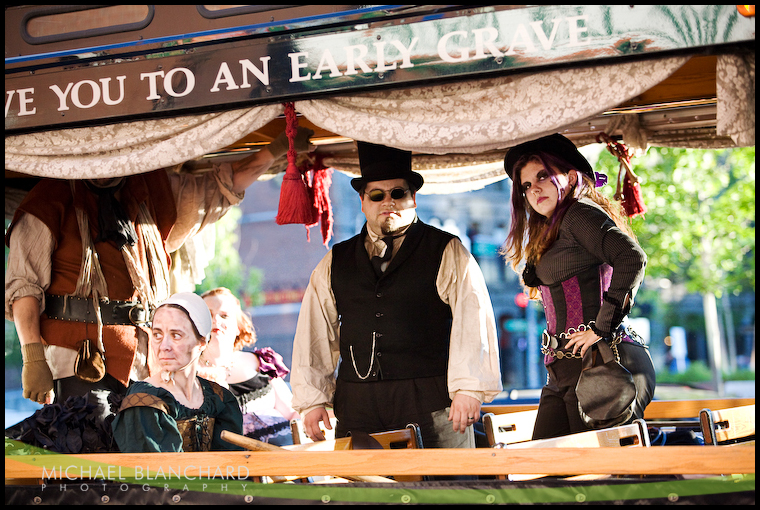 We all rode together to the shoot location.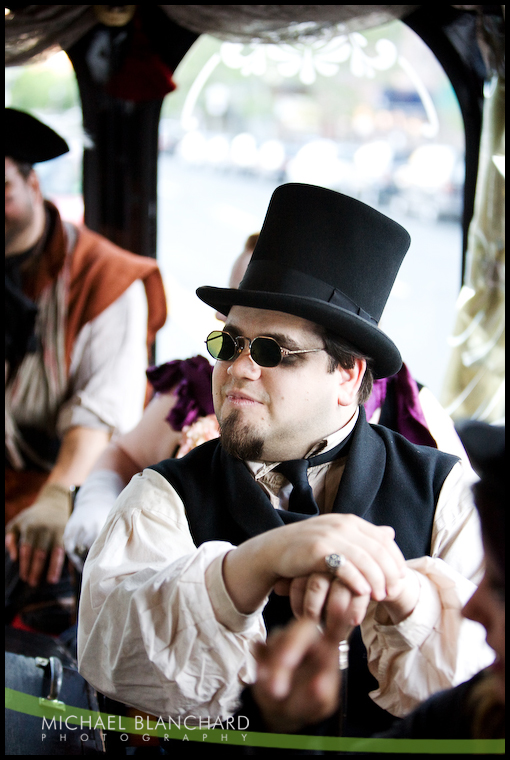 This is the cast of Ghosts & Gravestones.

They are the craziest bunch of people I've ever met! What a blast it was to ride with them... non stop joking and laughing; they are so very entertaining. It definitely takes a certain type of person to pull off their job.

By the way, this was the first time that all eleven of them had ever been together at the same time!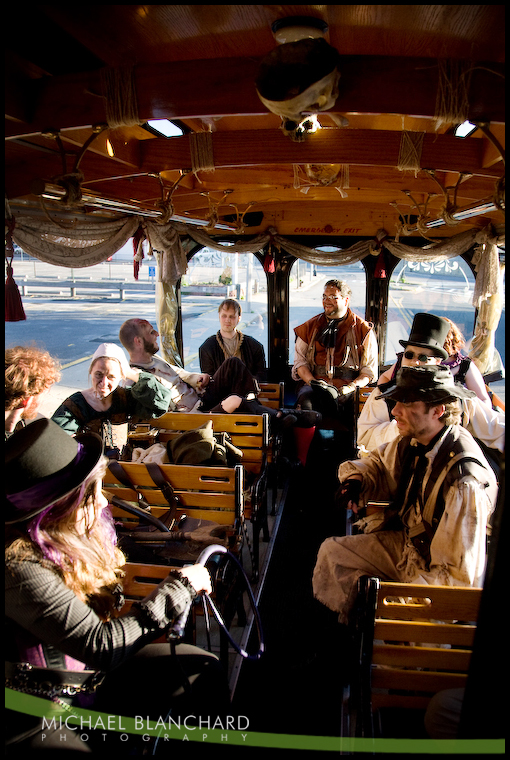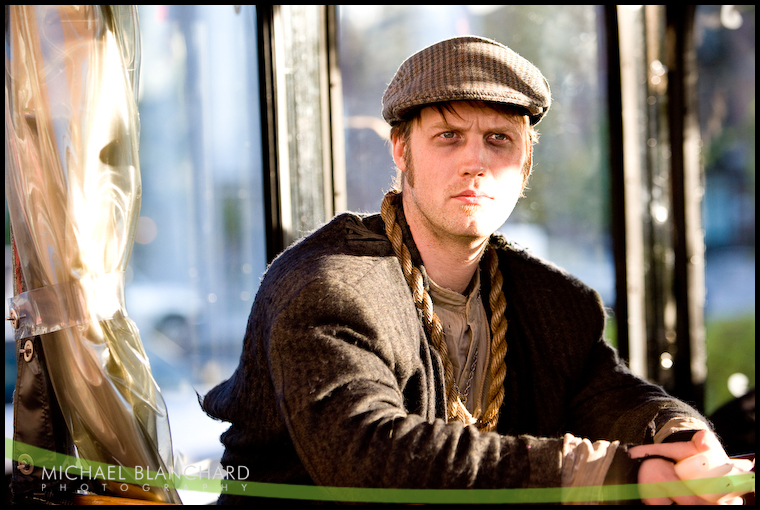 Meet the gravedigger!

Our location was the Copp's Hill burial ground in the North End of Boston.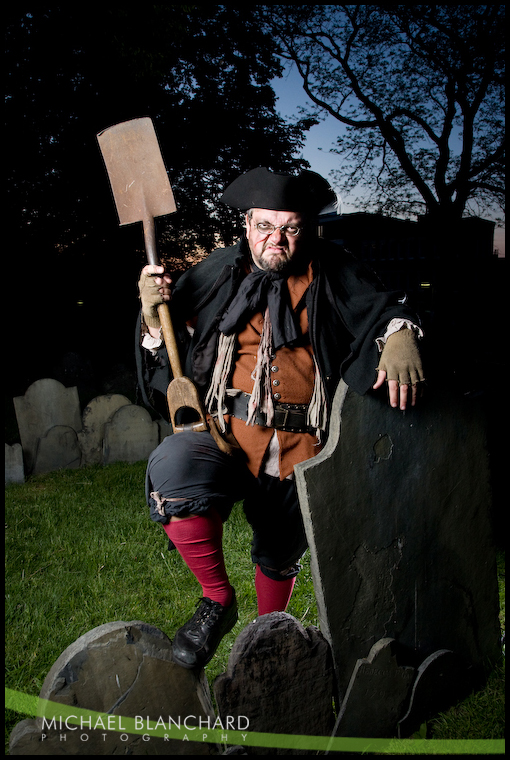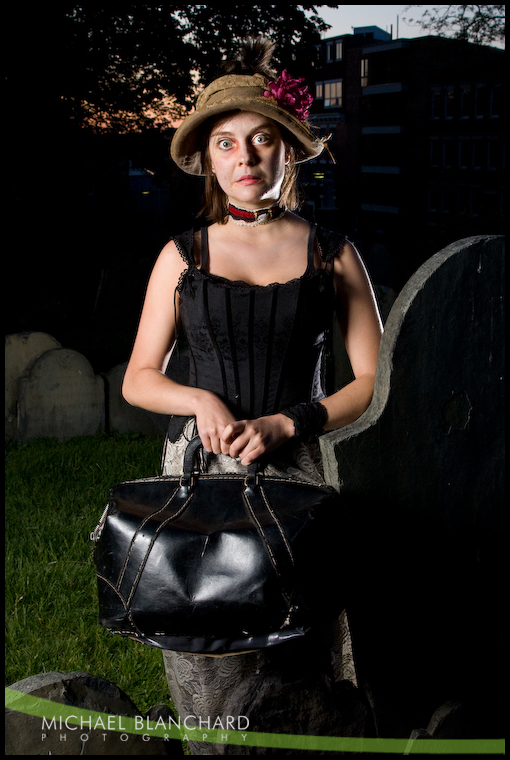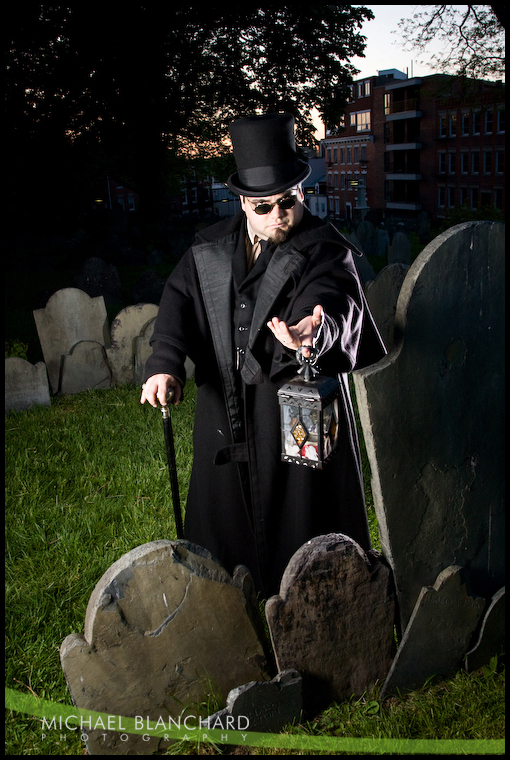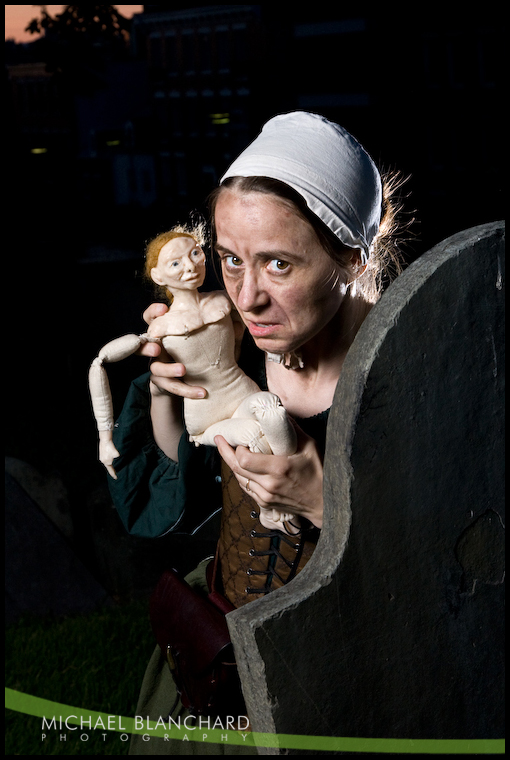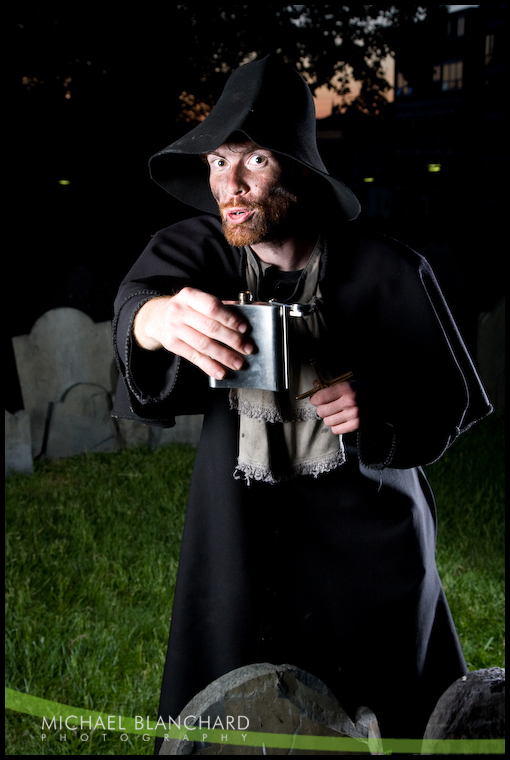 Our only costume change for the night... He only puts this on for special occasions.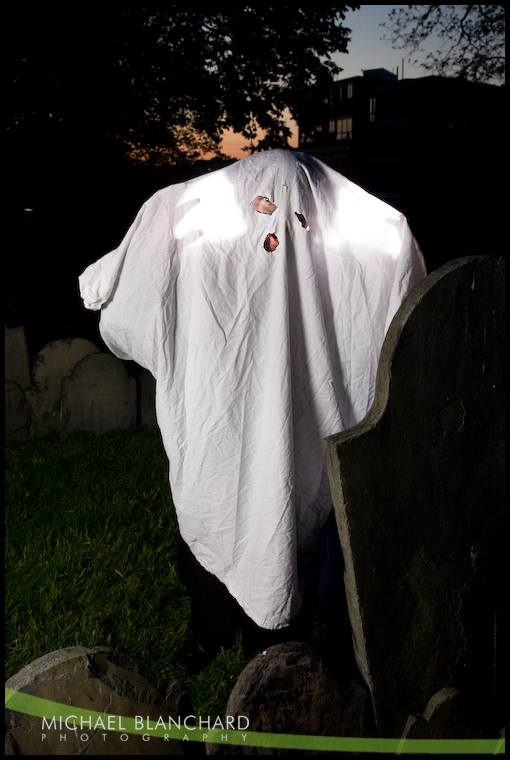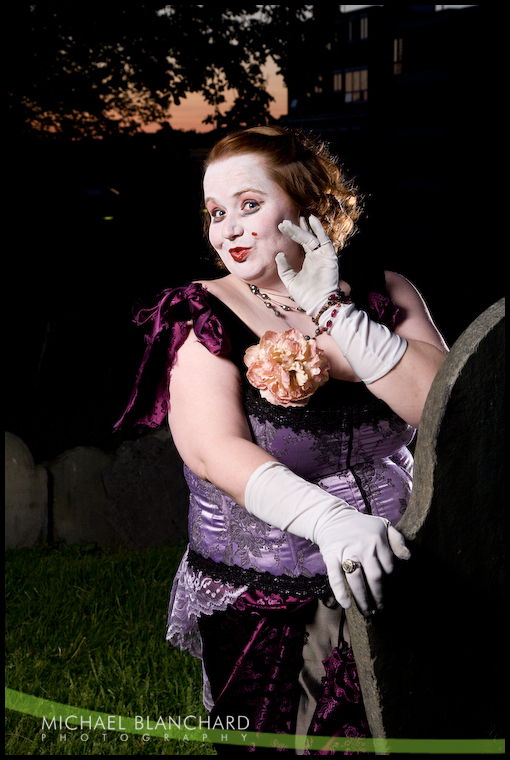 My amazing assistant-for-the-day, Shyla, captured this photo of me working!

Shy, thank you so much for your positive attitude and photo mastery. Your cheerful laugh & friendly smile was an asset to the day.

Check out her GREAT photos from the day, here on her blog!.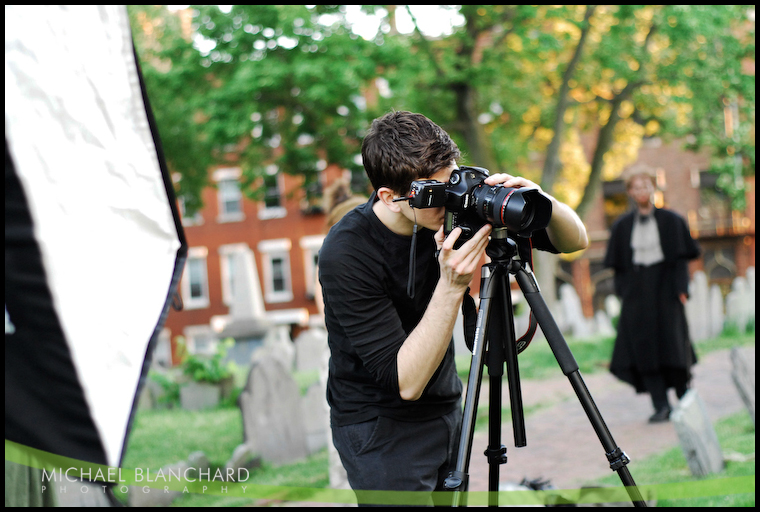 This is one of my favorites. I love his shirt, bloody stitches and silver strangle chain!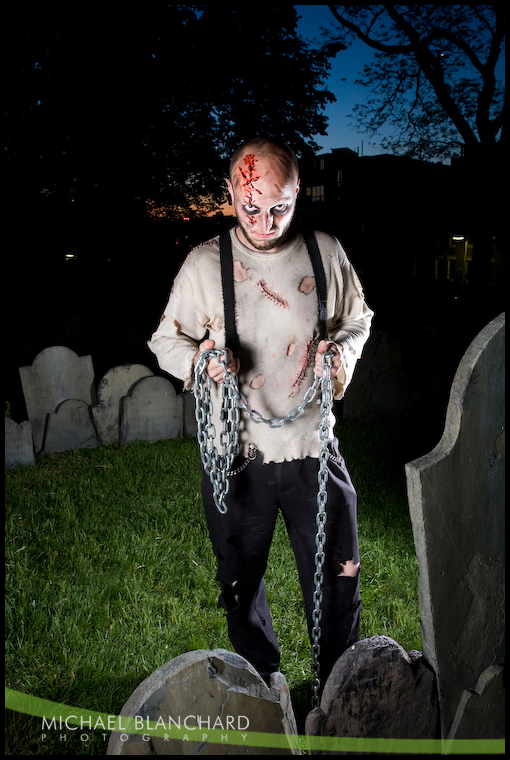 Finally, a friendly face in the graveyard! Or, is it a trick?

Evan also manages the Ghosts & Gravestones tour. I first met with him at his office a few months ago to discuss our plans for the shoot. Then I decided to go on an actual tour to see what it was like, and Evan ended up being my guide for the night. It was so funny to experience him in character after also meeting him in real life. He looked at me like he had never seen me before!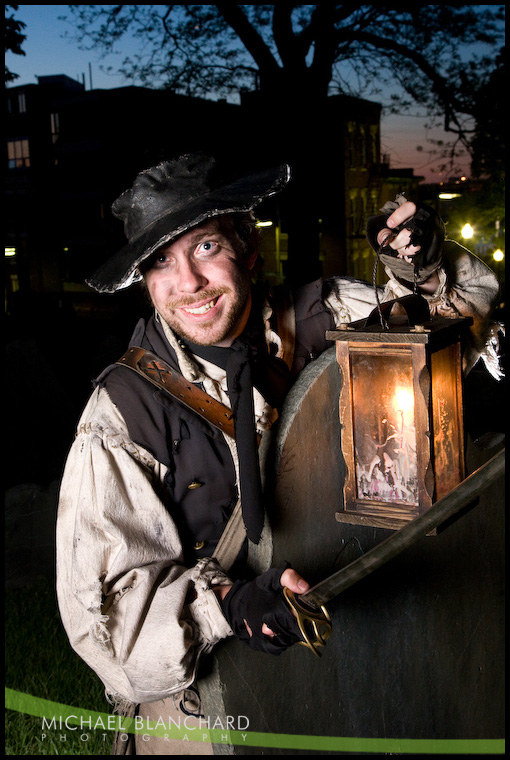 Kat's also a master in the creative department! She joined the cast a few years ago after designing their window display.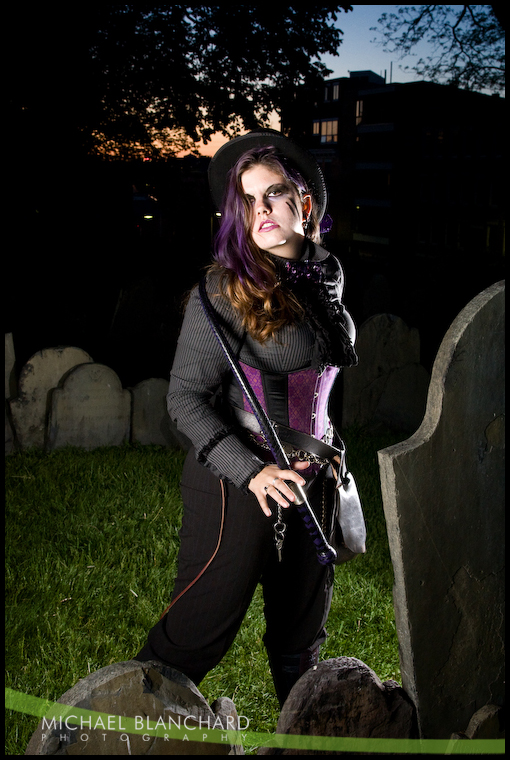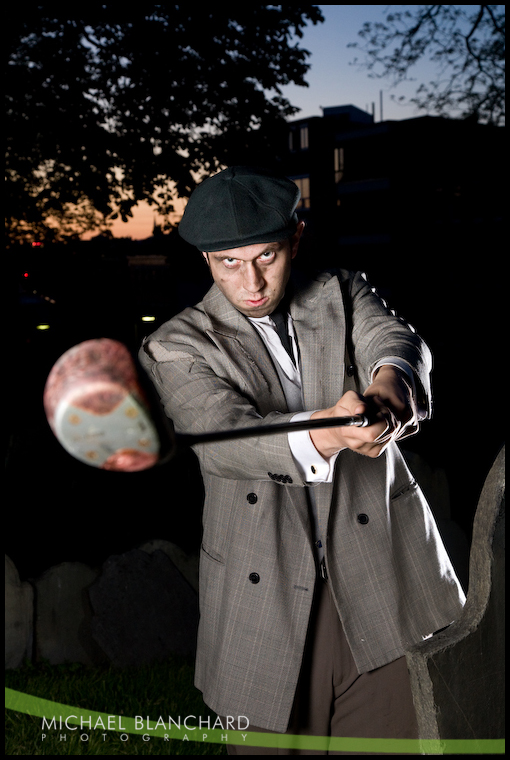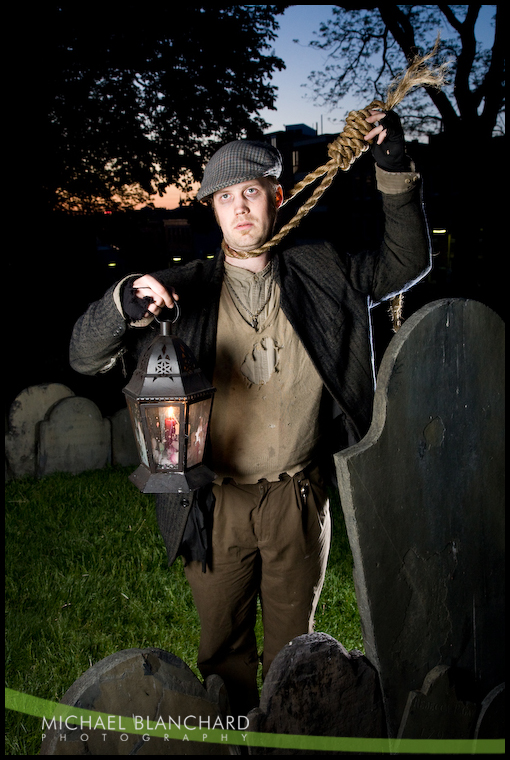 This was our Ghosts & Gravestones group shot.

This particular shot was a little more complicated then it looks. My battery lighting has two heads to it and only stretches so far. Lighting both the front and back of the group was tricky! Shyla was a real trooper though, holding the front soft box high above her head long enough for me to get the perfect shot, without complaining!

The entire group was really helpful as well, both in listening to my direction, staying still, and not knocking over any buckets of dry ice! Yes, the smoke you see is dry ice. I purchased 100 pounds of dry ice so that we could play with it at the graveyard. Unfortunately, because it was so temperamental, we only got to use it for this one shot. I still think it was worth it though :)

Special thanks to Joe at Cabot's for loaning me his ice cream coolers to transport the dry ice!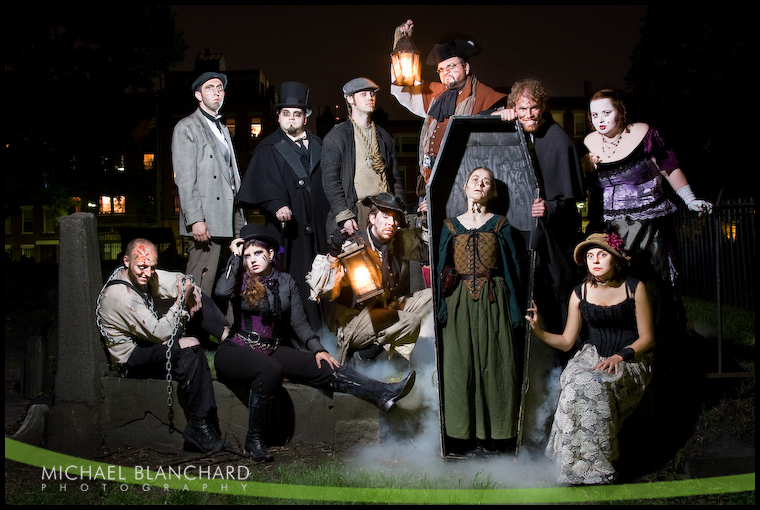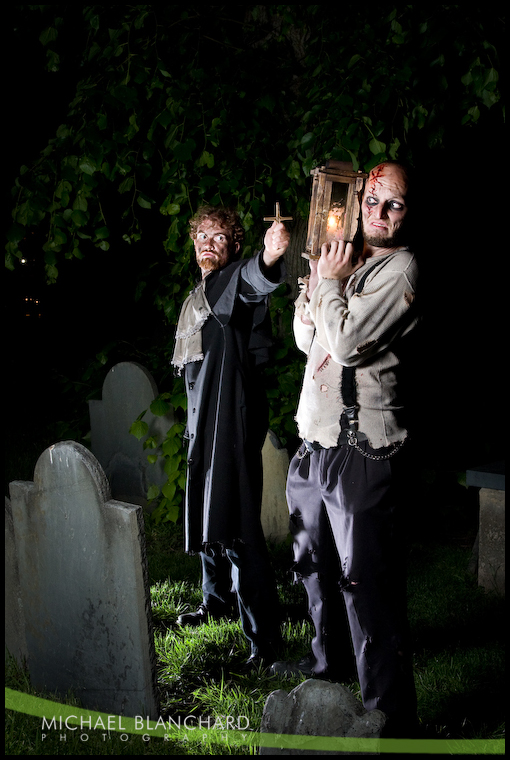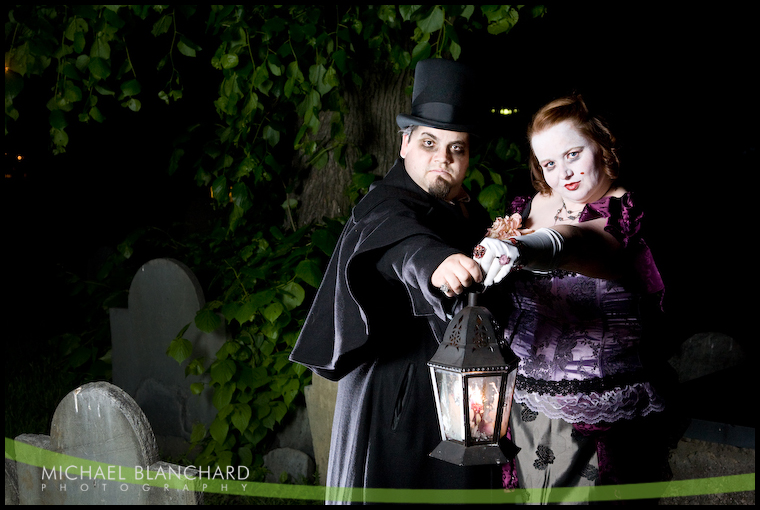 This picture is perhaps one of my favorites of all time! I LOVE their matching faces!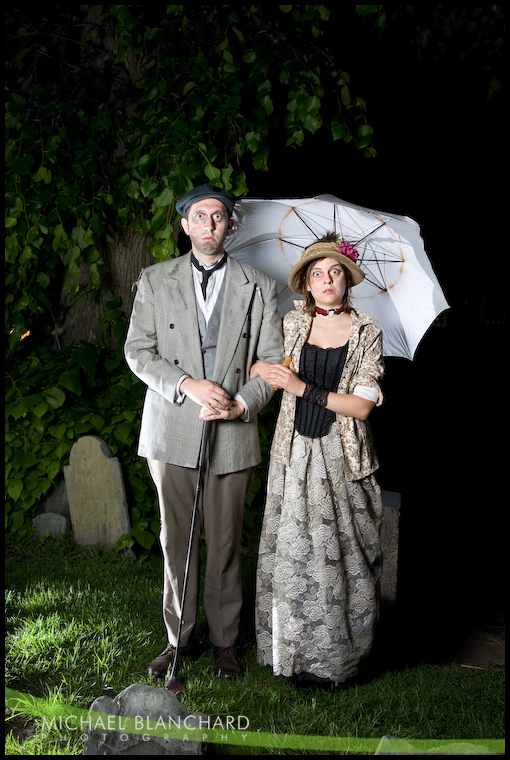 The guys of Ghosts & Gravestones!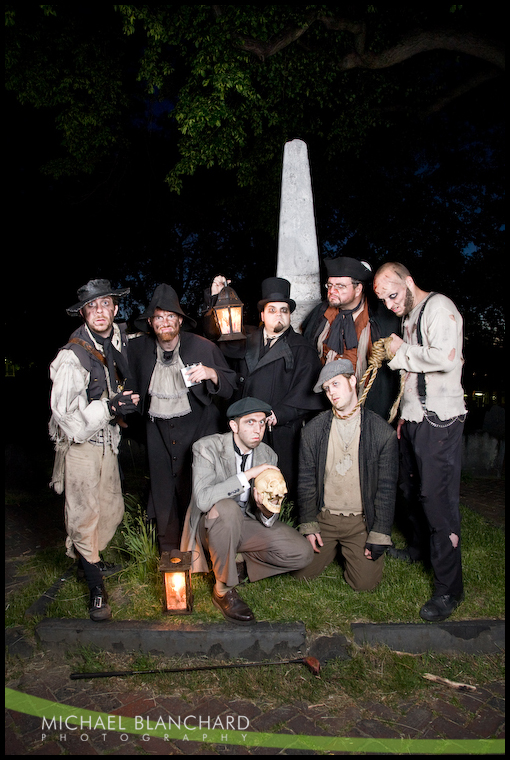 This was going to be a girls shot, but one of the guys creeped in the background, and I think it's PERFECT as is!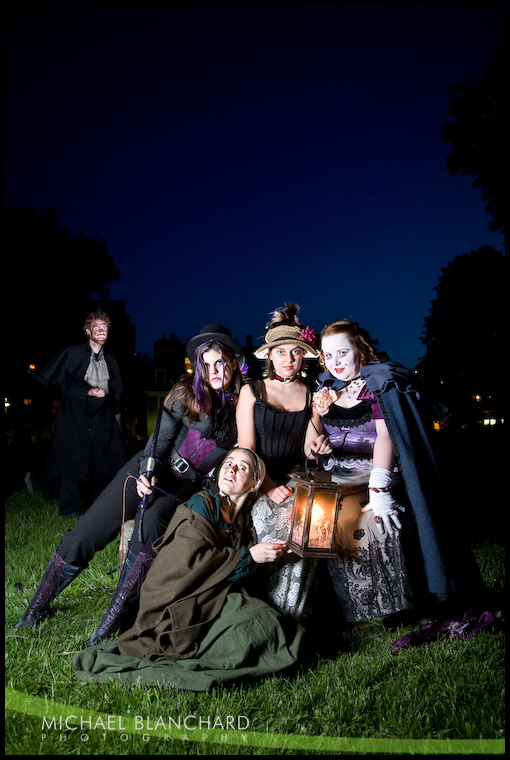 As we were leaving the graveyard Shyla and I noticed this interesting cluster of headstones. I love this one, too!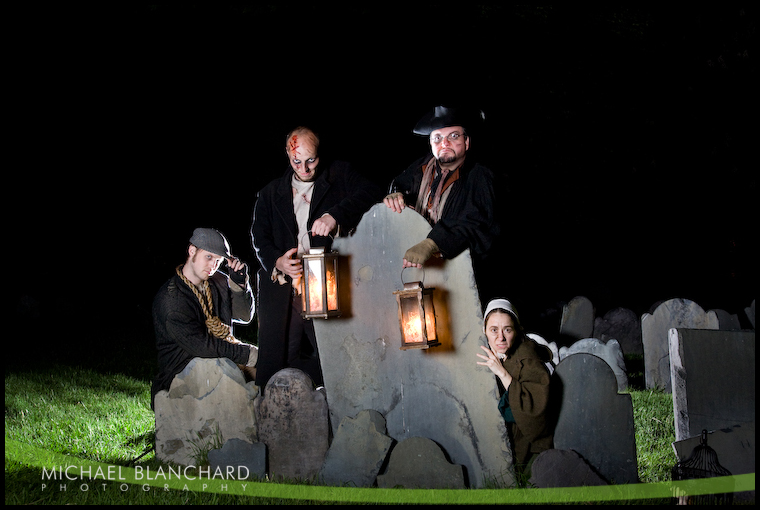 Lastly, the gang was hoping to get a picture of them all together, spread apart in the graveyard. What better than a panoramic!

I REALLY commend these guys for pulling it off... Yes, I took the picture (or, pictures, as this is the culmination of about 15 individual shots), but it would not have worked if everyone did not stand completely still for about 5 minutes! That's dedication.



Click HERE to see it in detail.






My favorite part of this shoot is that these photos weren't faked for PR - this is the true spirit of the Ghosts & Gravestones cast!

If you are ever looking for something fun to do before dinner, consider taking their tour. Not only is everything you'll learn about Boston's history very interesting, but you also receive a theatrical performance second to none. Don't forget to tell them I sent you!


| | |
| --- | --- |
| | |


Photographers have made photo-blogging very popular in recent years. After being a fan of many blogs myself, I decided that I too needed one. My intention for this fancy website was to share my work with you, book a few jobs, and possibly sell a couple of prints here and there. I didn't, however, realize this website's full potential until I posted my story on baby Giovanni Guglielmo.

It was through my Giovanni post that I once again found my love for telling stories. I also realized what a great audience I had here. The response was phenomenal and it made me want to look for more stories to tell. Helen Smith, my advisor on the Newtonite, gets the credit for this one. Helen was the person who really taught me to see a good story. Well Helen, I'm still trying!

This brings me to April 5th, 2008. I was watching the news when I heard about eight year old Kai Leigh Harriott. If you are from Boston, perhaps you have heard the name as well - She was the three year old who was paralyzed by a stray bullet in 2003.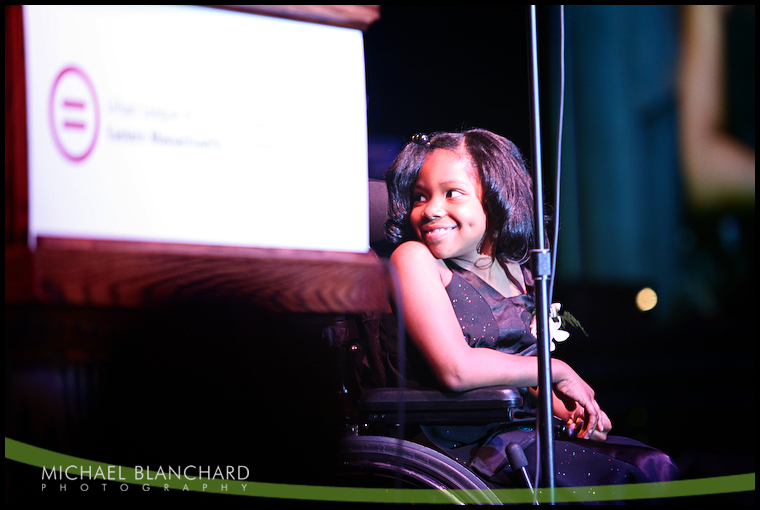 While watching the news I found out that Kai was to receive an award at the Urban League Gala that very night. I quickly put away what I was working on and headed to the Boston World Trade Center. Kai's story is nothing short of amazing & I wanted to tell it.

An innocent three year old, shot and paralyzed while playing on her otherwise safe porch. That's what happened to Kai.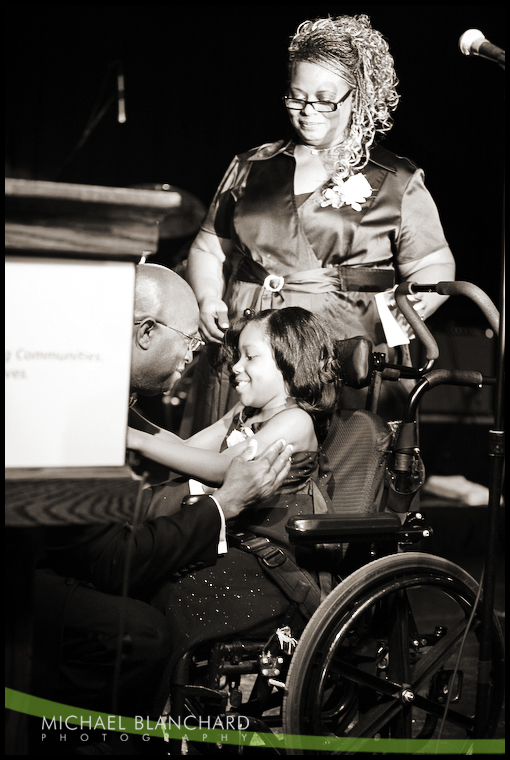 "I chose instantly to forgive," said Tonya David, Kai's mom.

"God taught me how to forgive - he taught my heart - he showed me how to change - he taught me to forgive," she said.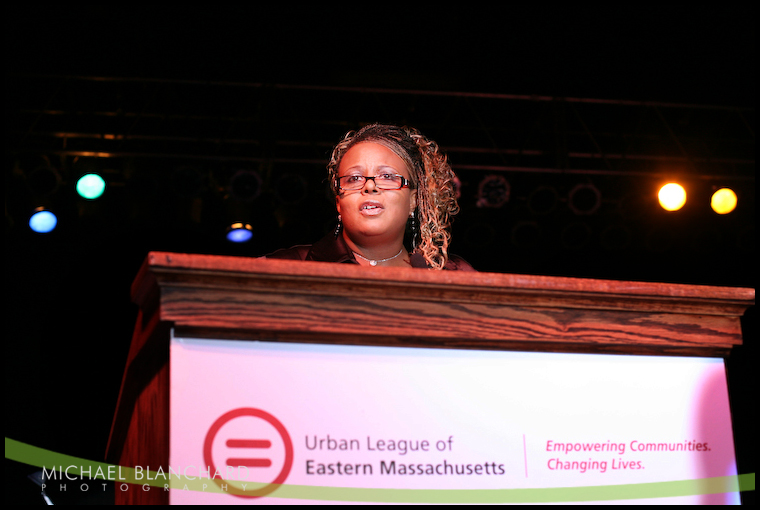 "It's not easy to forgive someone who hurt you," said Tonya David - who in front of a packed courtroom in 2006, accepted the apology of Kai's shooter with a hug. "We are choosing to have forgiveness in our hearts," she said. "Forgiveness is the way."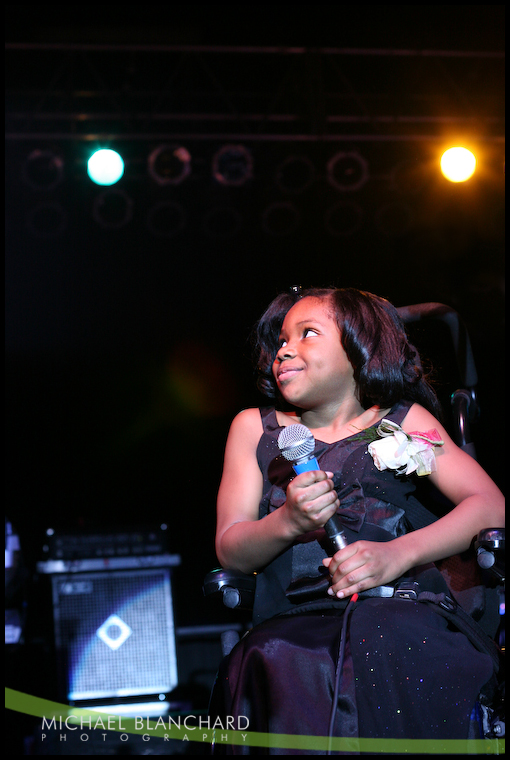 Kai agrees. She publicly forgave her shooter in the same Boston courtroom.

After taking a minute to warm up to the mic (and the couple hundred people starring at her), Kai spoke. "I forgave because I thought it would be the right thing to do," she said. "You want to be happy. You don't want to be old and bitter."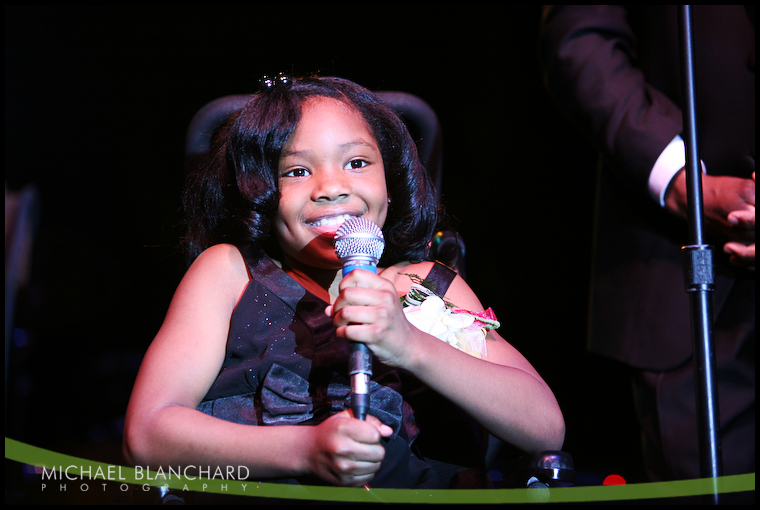 I looked behind me for a second while Kai was speaking. Everyone was clearly taken back by her compassion and strength.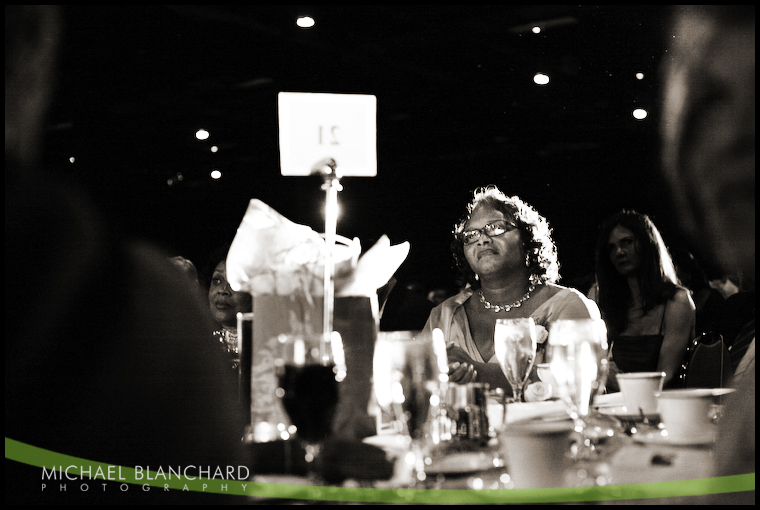 In a 2006 article written by the Boston Globe, Tonya David was quoted, "I don't want bitterness and anger in my life, and I don't want that for Kai Leigh. We are Christians. I tried very hard from the depths of my soul to hate Anthony, but it wouldn't come out."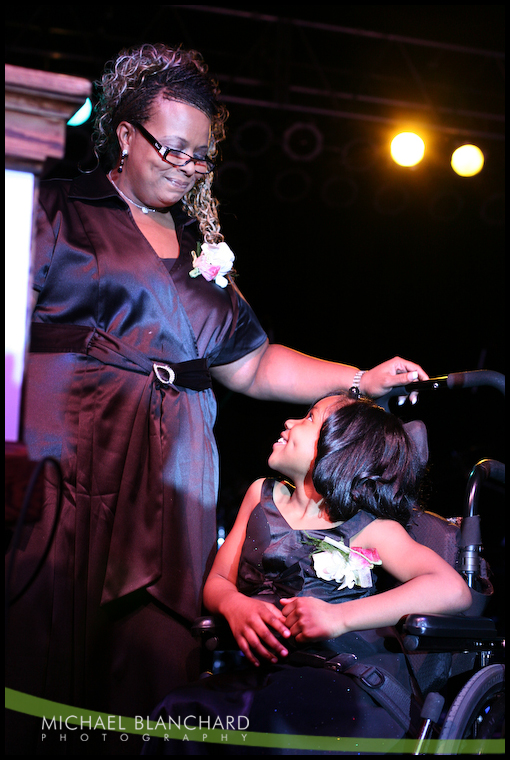 Archive By Month:


Blog Stats:



Posts: 228
Comments: 705
Visits: 205,473